The shutdown od HairDirect.com comes as a shocking suprise to many in the loss loss community.

When Hair Direct closed their virtual doors at the end of January, they left thousands of users in the lurch. Some clients had prepaid for hair systems, and some had some on order.

If you are a former HairDirect.com clients and still have unshipped orders from HD following is what you should do

1
Dispute your previous charge with your financial institute
Some clients already won the case by providing all the necessary documents to their credit card company
Contact 
the attorney handling Hair Direct bankruptcy case

Barry A. Solodky| Senior Counsel
280 Granite Run Drive, Suite 300
Lancaster, PA 17601
Phone: 717.556.1086 | Internal: 1086
We have attached a screenshot of a reply from the attorney
May 2022 New Update:
Some previous HD customer start to receive check from Hair Direct in small depoist. Most people got less than $100 in the mail and some got 100-200 dollars which is only a small percentage of what they lost. We also got a report that one customer received his remaining two hairpieces orders although in an un-cut status.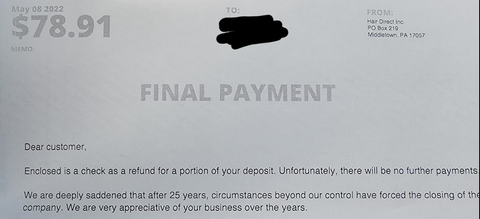 We also got an updated verison of the email reply from the lawyer handling HairDirect case:
"Believe me, I understand how you feel. Having done this for a long time I have heard many complaints from customers and creditors over the years. What I can tell you is that only customers have received payments. The client opted out of paying other trade creditors and vendors in favor of the customers. The principal of HD has lost a business that he has put his blood, sweat and tears in for almost 30 years. One of the factories he worked with in Asia had a fire early on in the pandemic. Hoping he could start receiving product again as quickly as possible he contributed to bringing that facility up to date. While I know these things may not matter to you and other customers it does show the extent he went to to keep things running smoothly. Barry"
In the meanwhile you must be busy looking for a
new hair system
supplier like HairDirect. 
If you are looking for an alternative of Hair Direct or to be precise the sourcing supplier of some big brands in the industry you are in the right place. 
For over 10 years, We have been a sourcing supplier of 
premium hairpieces
. Now we are with you instead of working at the background.
We have helped former HD clients in many cases to
duplicate old hair system
they wear exactly. Our highly experienced and well trained professionals will 
help them figure out their specs such as the type of hair system, size, and color. We arealso
 offering HD Clients a discount to help offset any losses caused by Hair Direct.
If you want to find out more please do not hestigate to contact our consultants.